Award
Websites






Sites which are chosen as "Award Websites" by the Internet Cello Society, and which are featured on this page, are allowed to use the I.C.S. "Seal of Excellence" on their sites. We invite our readers to nominate interesting cello websites that they would like to be considered for this recognition in the future. At least one site per month will be selected based on its content, cello relevance, creativity and presentation style!
---
This website explores the advantages that the cello has over the guitar when accompanying singers and other instruments in traditional or folk music.
---
This includes an essay by cello historian Dimitry Markevitch as well as links to other sites on cello in traditional music, cello accompaniment concepts, a baroque cello page, and Scottish Fiddle tunes for cello.
---
November/December 99 Award Website:

This is the home page for Anner Bylsma's new book. It contains quotes from his book, as well as audio clips.



---
March/April Award Website: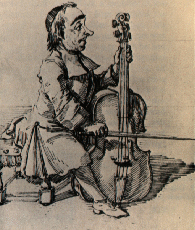 The Cello Music Collections housed in Special Collections & Rare Books, University of North Carolina, Greensboro. The UNCG Cello Music Collections contain thousands of published and manuscript scores, some recordings, personal correspondence, teaching notes, and other archival materials of interest to cello scholars. There are four collections which are processed and available for use: the Luigi Silva Collection, the Elizabeth Cowling Collection, the Rudolf Matz Collection, and the Maurice Eisenberg Collection. A fifth collection, that of Hungarian-born Janos Scholz, is still being processed.
---

January/February Award Website:
ECLECTRA: FEATURED CELLO CDS
This page is a small part of a large website that includes reviews of classical recordings by "The Omnipotent Critic" (TOC), a "Live Music" section using RealAudio streaming technology, and features not only contemporary classical music but music of all genres and styles: early music, electronic music, crossover and jazz. Eclectra promises to expose us to ever new and interesting compositions as well as rare recordings of lesser-known virtuoso artists of the past. This is a site to bookmark and revisit!


November/December Award Website:
A-Cello-Rondo
Trina Carey features her Suzuki Cello Studio in Pasadena, California. This local site has a cheerful character, interesting information and some novel treasures.



September/October Award Website:
LEONARD ROSE COMPETITION AND FESTIVAL


July/August Award Website:
DERYK HOUSTON-THE ART GALLERY
featuring information and painting of cellist Vedran Smailovic



May's Featured Website:
The Cellistic World of Daniel Domb!


April's Featured Website:
The Protege Philharmonic
---