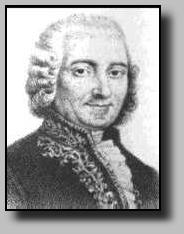 Luigi Boccherini
1743-1805
---
Every student cellist soon becomes familiar with the b flat concerto of Boccherini, and its complicated history. (It was re-written by Grutzmacher, the famous cellist who took samples of four different works to form his edition, which is the one still most often performed.) Luigi Boccherini was born in Lucca, Italy, on February 19, 1743. His father, a professional bass player, was his first teacher. He also studied with the Abbé Vannucci, chapel-master to the Archbishop. Boccherini proved to be an extremely quick and talented pupil, and in 1757 he was sent to Rome to perfect his technique under more expert teachers.
The reputation of Boccherini rivalled that of Haydn, if the nick- name "the wife of Haydn" may be accepted as evidence of contemporary fame. (Boccherini was often referred to as "Haydn`s wife" by the violinist Giuseppe Puppo.)
After finishing his studies in Rome, he returned to Lucca as a virtuoso cellist, and joined the town theatre orchestra. At the same time, he showed his talents as a composer by giving a special concert - with the cooperation of Filippo Manfredi, the violinist - devoted entirely to Boccherini's own sonatas. The success of this concert was so great that he and Manfredi decided to tour the principle cities of France. They were successful everywhere, including Paris, which they reached in 1768.
Boccherini also worked in Vienna, before moving to Paris and thence to Spain. There he was in the service of the Infante Don Luis and various other patrons, and was appointed court composer to King Friedrich Wilhelm II of Prussia, himself a cellist.
The Ambassador of Spain in Paris invited him to come to Madrid, but his reception there was not half so welcoming as he had anticipated, and royal patronage, which had been promised, was not forthcoming. However, the Emperor of Prussia was impressed with his abilities both as virtuoso and composer, and engaged him as a chamber-composer at a generous annual salary. For several years, Boccherini held this position, enjoying during this period of comfort and high esteem. With the death of the Emperor, Boccherini was compelled to seek employment elsewhere, and he decided to return to Spain.
For a long period he lived in Madrid, poor and not famous. His only escape from squalor and darkness was his music. He was often sick, and he needed complete retirement from his cello. And he was removed from public notice. His life was made more unhappy by the early death of his two sons. Luigi Boccherini died in Madrid on 28 May 1805.
Not many of Boccherini`s compositions are performed today, but his name is very important in the history of music, for he, along with Haydn, definitely established the string-quartet, of which he composed a hundred. His compositions possess melodic invention and charm.
Musicologist François Joseph Fétis wrote: "Rarely has a composer had the merit of originality, to a greater degree than Boccherini. His ideas are always original, and his works are so remarkable...that one would be tempted to believe that he has never known any other music but his own...His harmony is rich in effects...His adagios and his minuets are always delicious...With a merit so remarkable, it is strange that Boccherini should not be better known today in France."
Another author said that he was
"the first great perfecter in modern music. Everything for which his predecessors worked, singly and labouriously, was garnered and absorbed by him. Sammartini`s beginning, Johann Stamitz` s radicalism, Pugnani`s tentative efforts and Beck`s inspiration - all these had their experimental value for Boccherini, and the achievements of all these hot-bloods of the new art are at last justified and brought to fulfillment. In his hands, the new style yields up its most secret properties and possibilities...In Boccherini...a sensitive and exuberant spirit is seen inhabiting, as it were, a tropical world. Of this spirit, subtle melodies are first conceived. Boccherini then concentrates on the independant leading of the parts (based on a plurality of motifs) achieving at times truly plastic effects, which belong rather to the romantic epoch than to the severe linear art of the classics...What constitutes an epoch-making characteristic of Boccherini`s work is the skilful manner in which he continues to vary his forms of expression within the smallest framework...In this respect none of Boccherini`s contemporaries can compare with him."

Return to Biographies