MEMBERSHIP SPOTLIGHT
---
Dave Thomas -- Cellist by Night (Wannabe)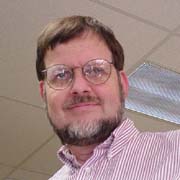 Hi y'all! Here I am, AKA "DWThomas" on the EZboard(s).
Bio? Well, I was born at a fairly young age; fumbled my way through public school and some college. I have supported my hobbies through tinkering with mechanical and electronic gizmos and computers for nearly forty years.
For the past seven years my day job has been a series of custom software projects replacing control systems in some paper mills in the South. Thankfully, these projects are now winding down. After the novelty wears off, a paper mill is not [cough! phew!] that much fun to be around. They are also typically located (for good reasons) in remote areas where cultural events are few and far between.
I started on the cello about the time I should have started slowly lapsing into ancient decrepitude. This can happen when you're winding up six decades on the planet and still don't know what you want to be when you grow up. My early musical history included "Tonettes" in third grade, and a few years of harpsichord lessons in the 1980s. At that time I built a harpsichord from a kit (cheaper than a sports car for a mid-life crisis.) After my teacher for that instrument became too busy to continue with lessons, I slowly lapsed into playing mostly the stereo.
But then, a new awakening -- I began lessons in the summer of 1998, shortly after my dad died. I suppose that reminder of mortality had some influence on the decision. My wife and I had acquired this admittedly schlocky instrument several years earlier in a vain effort to encourage a niece's interest. We realize now that money for lessons might have been a more successful approach. Knowing that the dear old Englehardt was lying in an attic three states away gathering dust, we brought it back to our suburban Philadelphia home. My wife had already been recovering rusty viola skills at the Community Music School in Trappe, PA. I signed on for a summer session there to see if there was any hope. At the time, I found it hard to believe one could ever hit a correct note on a string without keys or frets. Hmmm -- maybe I still do!
I am on my second teacher. No, I'm not really that tough on them, it's just that staff positions at small community institutions are not generally the ticket to long term fame and fortune. My first teacher spent considerable time and effort heading off my bad habits in bowing, and correcting irregularities in arm and body position. The transition to a new teacher in September 1999 went smoothly, and I've been pleased with my progress. My current teacher is principal cellist with the Pennsylvania Ballet and plays a lot of other orchestra gigs. This makes our schedule a bit irregular, but the opportunity to learn from someone that accomplished makes the occasional inconvenience quite tolerable.
We're now getting serious about developing a vibrato, and memorizing a piece to victimize during efforts to improve general sound and musicality. Long term goals are continued progress and picking up more "real music" repertoire. For years I have followed interests in Baroque and Renaissance music -- yes, that HIP stuff -- so no doubt the easier portions of the Bach Suites will find their way to my music stand before much longer.
Last Fall I played in a coached quartet at the school. It was definitely a worthwhile experience. I did find that having that on a night other than my lesson night seemed to make the week a trifle busy. My wife played viola in this little group, mostly to humor and encourage me. I know that it was a bit of a drag for her as her playing skills are well beyond mine, but she has been very supportive of my efforts.
January 25th (2001) was my 1st anniversary on the ICS forums. I enjoy kibitzing with my virtual acquaintances in the ICS community and was happy to meet about a dozen of you face to face at WCC III last year. It never ceases to amaze me how generous ICS people are with their knowledge.
Other potential obsessions here at Pigpen-on-the-Perkiomen, in no particular order, are photography, bonsai, bread baking, watercolor, and most recently some forays into weaving. Learn a little more than you probably wanted to know at Dave's Bakery & Asylum. Included there are photos of some of the legendary Hathaway-Thomas Collection of Un- and Poorly-played Instruments. I am also on the board of the Perkiomen Valley Art Center, a small local art club. I edit and publish a newletter for that group as well as get deeply entangled in the behind-the-scenes mechanics of mounting our annual shows. (On increasingly rare occasions I even enter something!)
Ok, that's my story. Remember, I am always on the lookout for cool music ....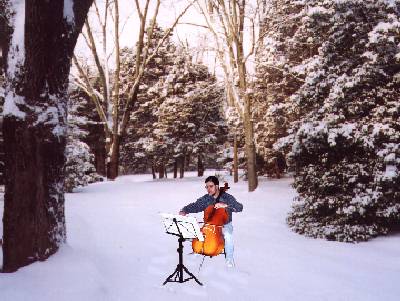 Top Photo: T. S. Keyser, Bottom Photo(s) D. W. Thomas, 2001
---