PROFILE: VALERIE WALDEN
by Bobbie Mayer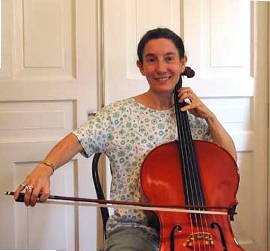 Valerie Walden
Once a week I pack my cello into my car and drive from Fresno south on Highway 99 through the vineyards and orchards of the San Joaquin Valley to the small city of Visalia, California. I have come for a cello lesson, but today I'm also here to interview Valerie Walden. Dr. Valerie Walden is principal cellist with the Tulare County Symphony and is an instructor for the South San Joaquin Valley branch of Chapman University and the College of the Sequoias, but she is best known to cellists as the author of "One Hundred Years of Violoncello- Technique and Performance Practice 1740-1840" (1998, Cambridge University Press) and as a contributor "The Cambridge Companion to the Cello" (1999) and Groves Dictionary of Music.
When fellow cellists who are familiar with Dr. Valerie Walden's work learn that she is my teacher, they are often curious about what she is like and what it is like to study with such an eminent scholar. I hope that I can answer these questions with this article.
The Waldens just moved to Visalia from the nearby (smaller) city of Hanford, and are renovating a hundred year old Victorian house. Dr. Walden gives cello lessons amidst the chaos and noise of the ongoing renovation, and she is quick to point out the advantages of the "new" house: the studio is much larger, and students will no longer have to walk through the bedroom to reach the bathroom. It is also closer to most of her thirty or so students. After an interlude with Romberg's "Variations on a Theme, Opus 61", Sevcik, and my first Duport etude, we walk the few blocks through 90-plus degree heat (down from 104 yesterday) to a sandwich shop in downtown Visalia.
Valerie grew up in Rio Del Mar, a small town near Santa Cruz, California. Her mother was a piano teacher with a full studio, and her father taught high school history. Valerie began her musical studies on the piano at the age of six, and in the fifth grade, started on the cello. In the sixth grade she began lessons with her first private teacher, William "Willie" van den Burg, a Dutchman who had studied with Casals in Paris in the 1920's and later immigrated to the United States to become principal cellist in the Philadelphia Orchestra and later the San Francisco Symphony. After World War II, Willie spent many years with studio orchestras in Los Angeles, retiring to Santa Cruz in his sixties to teach part-time at the University of California, Santa Cruz. Of Willie, Valerie said, "He taught me marvelous things about Bach and phrasing and playing through your soul and your heart." Willie introduced Valerie to a wide range of cello literature. "He had me playing Romberg concertos in high school, although I can't imagine how I sounded." Crediting Willie with sparking her interest in cello history and performance practice, she says, "He kept referring to the French style of playing or the German style, and of course at the time I had no idea what he was talking about." Valerie studied with Willie from sixth grade through junior year of college at the University of California, Santa Cruz.
After her junior year at Santa Cruz, Valerie attended the Music Academy of the West's summer program, and met Gabor Rejto, a University of Southern California cello professor. When Rejto learned that she was in need of a teacher, as Willie van den Burg had retired, Rejto called Laszlo Varga at San Francisco State University and asked him to audition Valerie. During her senior year, she made the two hour drive weekly through San Jose rush hour traffic to San Francisco to study with Varga.
In 1976, Valerie graduated from U. C. Santa Cruz with a double major in cello performance and German history. She wrote her senior thesis on Metternick and the censorship of music in Austria during the Napoleonic Wars. By graduation, she had stopped playing the cello. She had married Max Walden, who was a developer specializing in historic restoration, and was pregnant with their daughter Eloise and feeling sick, and she didn't know how the cello should fit into her new family life. Knowing that she could not play well without regular practice, "Rather than play badly, I just put it away."
In 1979 the family moved to Hanford, in the San Joaquin Valley, so that Max could restore the Hanford Courthouse. By the time the project was finished, Valerie and Max had decided to make their permanent home in Hanford. They liked the small town atmosphere and thought it would be a good place to raise their children. Eloise was soon joined by two brothers, and Valerie spent her time working at a variety of non-cello-related jobs and raising her family. She missed playing the cello but did not have enough time or focus to devote to it. "I was busy exploring a lot of other things in life that I never had time to do, most of which involved my husband's wide variety of business interests, and of course my children."
Valerie took up the cello again when her youngest son went to preschool in 1984. "I was emotionally ready and there was practice time available. " Now, rather than being the center of her life, playing the cello served as something that took Valerie out of her day to day routine. For two years, she again studied with Laszlo Varga in San Francisco, taking the train or driving four hours each way for a two-hour lesson. Although she was afraid she would have forgotten everything she'd learned, after two years of lessons she was back in top form. Conductor David Andre, who arrived in Visalia that year to become music director of the Tulare County Symphony, knew Valerie from her college days and called her and asked her to be his principal cellist.
Valerie believes that the experience of quitting and then starting again as an adult gives her a better understanding of both child and adult cello students, and helps her to be more positive in her approach to teaching. "With time and the discipline of practicing, you can do anything you set your mind to doing." She understands that sometimes even the best student may want to step back from playing and do something else for awhile, and reaffirms to her students that once they learn something "it is in a bank account that they can draw on later in life if they want to come back to it."
Life changed again in 1986 when her husband, Max Walden, was diagnosed with Hodgkins disease, and began chemotherapy. Valerie decided then that she needed to obtain an advanced degree, knowing that she might end up supporting her young family on her own. Planning for an uncertain future, Valerie investigated graduate programs in music, knowing by now that what she really wanted to do was to be a professional cellist.
In 1987, Max, then in remission, was invited by the Cook Island Government to conduct an economic development project. The Cook Islands produced too much pineapple which was going to waste before it could be shipped. Max found the location ideal for his recovery from chemotherapy and initiated the production of pineapple brandy on the island of Mangaia. Valerie got a catalog from the University of Auckland, New Zealand, and found out that the cello teacher there was Coral Bognuda. Since all of her previous teachers were male, Valerie thought it would be stimulating to have a woman cello teacher. After making contact with Bognuda, Valerie enrolled at the University of Auckland for a Master's degree. Max took the boys to the Cook Islands, three and a half hours away by air, and Valerie and her daughter went to Auckland, joining the rest of the family when on holidays.
Valerie did her Master of Arts at Auckland from 1987 to 1988. She was fascinated to learn that the Auckland public library contained first editions of Duport's and Romberg's treatises on cello playing, and wrote her MA thesis on Romberg. When she completed her Master's degree, the Music Department invited her to stay and do a Ph.D., funded by a University of Auckland grant.
Max and the children returned to Hanford in 1989, and Valerie commuted to New Zealand for four more years. The university had a residency requirement, so she had to be in New Zealand during the academic quarters for the first two years, flying home to Hanford for vacations. During the final two years she mainly returned to New Zealand to check in with Gerald Seaman and Coral Bognuda, her research advisors. "That's where I got all my good work done, " she says. "I lived with Coral when I was there and did nothing but a little cooking once in awhile and had nothing else to do but research and write."
The idea for a book came from a member of her Ph.D. dissertation committee. At her orals, Valerie explained that she had relied on Robin Stowell's book on the violin as a guide for the format of her dissertation, and the committee member suggested that she should write to Cambridge University Press and see if they were interested in a book on cello performance practice. Cambridge University Press asked her to submit some of her dissertation material and an outline for the proposed book, which she did, and they accepted it. The book itself required some new research on fingering, and widening parameters to include other cellist-composers. Valerie spent the next two years back in Hanford writing the book.
I asked her how her research in performance practice affected her teaching. "One aspect is the richness of the early literature as study material. As more teachers rely on other people's collections of study material the scope keeps getting narrower." Cello teachers such as Duport and Romberg routinely wrote their own teaching materials, a practice which for the most part ended with Klengel around the time of the first World War.
Both through Willie's influence and her own research, Valerie has been exposed to a wide range of cello literature, particularly early teaching materials, and uses many of these in her own teaching. Having a rich resource of musical examples means that Valerie does not have to hear the same pieces over and over, but can find an appropriate piece to suit each student's individual needs. She uses a wide variety of Baroque sonatas such as those by De Fesch and the many by Breval. Although she uses published works and does not attempt to teach from original manuscripts, she may go back to the original to clarify fingerings and bowings.
Her research also gave her an appreciation for the role that cellists played in accompanying other musicians. "All of the Baroque sonatas can be played with a second cello accompanying a cello soloist. " If no second part exists, the accompanying cellist can take the keyboard part and make up an accompaniment, switching from bass line to melody as needed. This was an important skill for early cellists, and one that Valerie herself often uses when accompanying her students.
I asked Valerie what things are important for today's cellists to know about historical performance practice. "Do you think everyone should play Baroque music with a Baroque bow and no endpin?" Valerie laughed, and told me about wanting to play in Auckland harpsichord teacher Tony Jennings' Baroque performance orchestra. He would not let her play with an endpin, and because Valerie is quite petite, she found it impossible to play the cello without it. Jennings' prohibition inspired her research on the subject of endpin use and eventually Valerie was able to show that the endpin had in fact been in use during the Baroque period.
As for how any cellist today chooses to play a piece of music, Valerie feels that that is an individual decision. "Start with the knowledge of what happened with that piece when it was written, and then use that to develop a concept of what is pleasing to yourself and your audience today. Use that information as a place from which to grow." For example, she said that holding the bow closer to the balance point when playing the Beethoven Opus 5 Sonatas gives you an idea of the articulation that would have been produced by a period bow, and then you can recreate that sound, if you choose, with a modern Tourte bow. Valerie does use a Baroque bow for some music, and sometimes has a student try playing with the Baroque bow in order to get a better understanding of the type of articulation a composer might have wanted.
Valerie said that she would like to do another book, possibly a history of string playing in the United States up to about 1918. However, she had fewer students when she was writing the first book. Since then, Valerie's studio has grown to more than thirty students, and she has more offers for part-time college teaching than she can accept.
Like Valerie, I started the cello in the 5th grade, but I stopped after only three years, and didn't begin playing again until I was thirty-five. At forty-six, I have been studying with Valerie, my fourth cello teacher, for just under two years. I am learning to appreciate Valerie's perspective on cello teaching. She reminded me that one of the first pieces she gave me, Carl Stamitz' Concerto I in G major, was a good introduction to the skills needed to play works such as the Haydn C major concerto. Rather than give pieces such as Haydn concertos too soon and have students play them badly, Valerie draws on many other published works to help her students to develop the skills required to play the major repertoire. My current assignment, the Romberg Variations, requires extensive thumb work using stationary hand positions. I am now seeing the development of my thumbwork and what looked impossible short weeks ago is beginning to be fun to play. I feel very lucky to have found in Valerie Walden not only a fine cello teacher but also a fascinating person.
---