ICS EXCLUSIVE INTERVIEW!!!

CONVERSATION WITH KEITH HARVEY

by Selma Gokcen
Click here to listen to Keith Harvey playing "Sea Murmurs." by Castelnuovo-Tedesco.
SG: Who and what were your primary influences as a cellist growing up in post-war England?
KH: I started playing at thirteen. I didn't really want to play the cello. Both my parents were violinists, my mother a professional and my father a very good amateur. When he was thirteen, his father died and he had to support the family, otherwise he might also have become a professional violinist. My mother had a fine technique but my father had a special quality of tone rather reminiscent of Kreisler.
At the age of nine I contracted polio, after which my hundred yard sprint was rather limited. Worried that I would not be able to stand and play, my mother decided I should play the cello. Of course her ulterior motive was a wish to have a resident cellist for chamber music. I began studying with Amos Moore, a wonderful man, who was a member of the Liverpool Philharmonic and an exceptional teacher of children.
Incidentally, at the age of six or seven, I had heard Casals play the Dvorak concerto and it made an indelible impression on me. There was something about the man, apart from the music, which I found so compelling. He remains in my childhood memory as a figure bathed in golden light. Later I was taken to a concert at which Antonio Janigro played. A lady violinist said to me, "He plays a Guadagnini, you know." To which my reply was: "No, I am sure it is a cello."
Shortly after I began lessons, I heard Pierre Fournier's exquisite recording of The Swan, which, even to this day, I think is the finest version on record. In fact, this was the defining moment when I really wanted to persevere with the instrument. Subsequently, I began looking through my father's record collection. I was in heaven listening to Casals' recording of the Dvorak concerto with George Szell and the Czech Philharmonic. I proceeded to wear out the records.
Did you have contact with any well-known English cellists?
No, in those days it was very hard for English cellists to have any real profile. Concerto dates were rare. Most of the truly remarkable cellists in England were orchestral principals and chamber musicians. For example, Anthony Pini with the Royal Philharmonic and Raymond Clark at Sadlers Wells, and later with the Philharmonia, were great players but relatively invisible to the public. Concert agents considered the cello to be box office death! Felix Salmond had long since departed to America after the disastrous premiere of the Elgar Concerto (through no fault of his own), and he soon established a great American school. Among his many distinguished pupils were Leonard Rose and Bernard Greenhouse.
When I was accepted by the Royal Academy of Music at the age of sixteen, I became aware of Derek Simpson, the star pupil and later son-in-law of Douglas Cameron, who was my teacher there.
I should mention at this point that, prior to my studies at the Royal Academy, I had been electrified by the playing of the great Emanuel Feuermann in his recording of the Haydn D major concerto. This dynamic performer, of all the great cellists, has been my guiding light. A colleague of mine, living in the depths of Yorkshire, grew up with that same recording of the Haydn concerto, thinking that every cellist sounded like Feuermann. He had a rude awakening when he later arrived in London to find that this was hardly the case!
At the age of twenty, I graduated from the Royal Academy of Music, having been awarded the Suggia Prize. I immediately used the proceeds to get married and go on a honeymoon. This greatly improved my playing. I had by now been invited to be the principal cellist of the London Philharmonic Orchestra, where I worked with such conductors as Sir Adrian Boult, Sir Malcolm Sargeant, Ferenc Fricsay, Kiril Kondrashin, and Charles Munch. I was the first of three, and the youngest, to go straight from music college into the principal cello position of a major London orchestra.
You once said you were quite "green" when you went into that job.
Yes, the position is colloquially referred to as the "hot seat". I'll tell you a story about that. One of the first works I faced was the difficult Tchaikovsky Fourth Symphony with Sir Adrian Boult conducting. On the morning of the concert, he came onto the podium and said, "Well, gentlemen, we cracked this nut twenty years ago. See you tonight." Here I was leading a very experienced cello section! Well I survived, but it was pretty terrifying. After a few months into the position, I remember William Steinberg conducted and Artur Rubenstein played the Brahms B-flat piano concerto in the Royal Festival Hall. It was my baptism of fire. The sheer power and energy of the second movement Scherzo, which precedes the sublime cello solo of the third movement, are rather disturbing to one's equilibrium. I learned from this experience that you have to soft-pedal the Scherzo and let the rest of the section do the real playing so that you are prepared for the calm to follow. Otherwise it is nearly impossible to begin this movement with the appropriate sound. The next day I was given a lovely and encouraging write-up by the critic Neville Cardus in the Guardian. Among other superlative artists that I had the pleasure and privilege of performing this solo with were Wilhelm Backhaus, Claudio Arrau, Leon Fleischer and Daniel Barenboim.
Another memorable occasion was a performance of the solo part of Don Quixote with the conductor Hans Schmidt-Isserstedt. During the rehearsal at the Albert Hall, Schmidt-Isserstedt was troubled by the acoustics: "It's not many years since I was flying over London as a member of the Luftwaffe," he said. "I had this building within my sights and I didn't fire. Now I wish I had."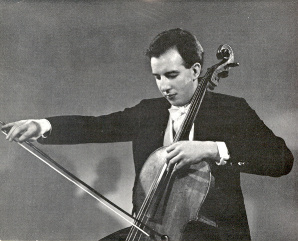 As a young professional embarking on a career, what helped you to go forward?
A wonderful camaraderie prevailed among my fellow players in the London Philharmonic Orchestra. They were always so supportive and encouraging. The unique orchestral sense of humour is something I found immensely sustaining; I will treasure it forever. I also had the chance to hear at close quarters many of the great soloists such as Oistrakh, Milstein, Leonard Rose and Issac Stern. It wasn't until I joined the LPO that I learned about projection. Naturally I realized that what I needed was a more powerful instrument. Having started with an "orange box" costing nine pounds, I graduated to a fine Gennaro Gagliano and then to a truly great Montagnana once owned by Bernhard Romberg. This last cello can be heard in most of the Gabrieli Quartet recordings and in such film scores as "The French Lieutenant's Woman," "Un Coeur en Hiver," and "Camille," for which I earned an Emmy Award.
As a principal cellist, I was called upon to play concertos. On one occasion it was the Elgar Concerto with Joseph Cripps. Until then he'd never even heard of the piece; nevertheless he was impressed with it, announcing on the final page "This is great music."
I had been in the LPO for approximately five years when the English Chamber Orchestra invited me to become their first cellist. I was lucky to be with them in the golden period of their existence, with conductors such as Benjamin Britten, Raymond Leppard, and Daniel Barenboim. Murray Perahia, Geza Anda, Rudolf Serkin, and Alexander Schneider were frequent soloists. I took part in the recording of the newly-discovered Haydn C major cello concerto with Rostropovich and Benjamin Britten. Travelling throughout South America, I also played the solo part myself, without conductor, but directed from the first desk by the leader Emanuel Hurwitz. Everywhere we went, he would begin the last movement a little faster than before. By the time we reached Mexico City, he decided to step up the tempo to the realm of the near- impossible, at the same time giving me a cheeky wink.
During my time in the English Chamber Orchestra, the co-leader Kenneth Sillito and I, together with the pianist John Streets and clarinettist Keith Puddy, formed the Gabrieli Ensemble, which later became the Gabrieli String Quartet. In the Ensemble, we performed Messaien's Quartet for the End of Time at least two hundred times. The composer was present at one of these performances and wrote a glowing appreciation.
You are also known in the cello world as a collector of uncommon taste and unusual treasures, recorded and printed music as well as filmed performances of the great cellists. Your collection was the basis for the Pearl series of recordings called The History of the Cello on Record. How did your passion for collecting begin and how did it develop?
It all began when I went to study briefly with Piatigorsky and became acquainted with the American collecting scene. The 78 Record Exchange in London was also a veritable Aladdin's cave, from where I amassed a rare collection of vocal, piano, violin, and cello recordings. Travelling around the world as I did with my quartet gave me the chance to find many incredible items. The recordings I have of Kathleen Ferrier mean more to me than any of the others. She is an artist of such expressive depth that I am often moved to tears.
What is the most unusual recording you've found?
The rarest recording I've ever owned was of Leopold Auer. Only seven originals exist in the whole world.
Would you talk about your time with the great Piatigorsky?
At the age of twenty-seven, I took the chance of a refresher course in Los Angeles with this wonderful artist. In 1957 I was present at the first London performance of the Walton concerto, which was written especially for him. Overwhelmed by the performance, I was inspired to use the remaining funds from the Suggia Prize to attend Piatigorsky's class at the University of Southern California. On the first day Piatigorsky picked me up in his wonderful car and drove me to the campus, where he held his class in Heifetz's room. We had been sitting in there for ten minutes when the phone rang. "Whatever you do, don't anyone answer that phone", Grisha cried. "It's Jascha checking to see that his room is still empty."
What did you learn from Piatigorsky?
He didn't seem to have a set method. He sorted out each student according to their talents and personalities. One fundamental thing he taught me is that the left hand is strongest when it is closed together like a fist. I cannot possibly go into all his ideas here; suffice it to say that he was a very great inspiration.
What do you believe is valuable to pass on from the cellistic traditions of the past to the players of the future?
When I think of Emanuel Feuermann, he is not a cellist of the past; he is a cellist for the future and for all time. To me it hardly seems conceivable that the instrument could be played better. Differently, perhaps, but not better. I do feel strongly that the icons of the past should be the beacons of the future. For instance, Casals, like Churchill, was an orator, a timeless inspiration. What worries me today is that many young players find it hard to relate to Casals' mode of expression. Their style of playing seems to veer between the extremes of emotional superficiality and sheer sleaze. I cannot resist the opportunity to mention my aversion to the current fad of Bach interpretation in the so-called authentic style. Occasionally I do hear some performances of Baroque repertoire that are by contrast very fine and interesting, but there seems to be a growing number of well-known instrumentalists determined to starve their own personalities and hearts to please the critics. As a result, they are not true to themselves, but are more concerned about the whims of seriously unmusical, ignorant critics and a fashion-led public. Many current performances of Bach and his contemporaries strike me as soulless and devoid of musical expression.
The Violoncello Society of London has recently been established. Would you say a few words about what it will mean to the cellists of Great Britain?
Above all, our aim is to bring together an enthusiastic group of people who will hopefully benefit from contact with eminent exponents of the art of cello playing. In this regard, collegiality is important. We wish to promote exceptionally talented young artists in conjunction with the more mature and experienced members of our profession. We hope this golden opportunity will help bring about a more realistic balance between the two, especially in view of the fact that too many of today's agents seem preoccupied with the easy option of youth in a mass market, whatever the quality.
To illustrate this, I'll tell you a story I heard only recently. Apparently an agent informed one of his artists, a celebrity and a magnificently youthful, energetic player, that having now reached the age of fifty, he must consider his career over. This is patently absurd, but unfortunately a reflection of what is happening. After all, a fine vintage wine is hardly despised; likewise a fine young one.
London, 10th October 2003
---