ARTICLE
---
SUMMER MUSIC CAMPS

by Bobbie Mayer
Summer music camps and workshops abound, and many welcome adults, from beginner to much more advanced. An online search of "summer music camps" yields a multitude of sites, and a print listing is available from Strings Magazine in their annual summer study guide issue (and also online.) Some online lists are provided at the end of this article. But what is it really like to attend music camp as an adult cello student? In this article, I will share with you the experiences of three ICS'ers at summer music camps and workshops.

Janet Scott is a catalog copywriter from Massachusetts. She had been playing the cello for just 1-1/2 years when she first attended Summerkeys Cello Vacation in Lubec, Maine. Janet writes,
"Cellists begin each day with a 9:00 AM group class, led by the capable and personable teaching team of Peter Lewy and Yari Bond. Group class generally focuses on basics, including warm-up techniques, scales, vibrato, and more. Beginners learn new tricks and advancing players always welcome the refreshers. Each cellist has a 45-minute private lesson each day (alternating daily between teachers). And every day, each cellist has an assigned time slot in a designated practice room. But if the time or place don't suit you, you can always take your cello out to a lighthouse for some practice with a view!

"Just being in Maine, I felt refreshed and restored (there's a reason it's called Vacationland)! My first visit to the stocky red and white lighthouse known as West Quoddy Head was on Monday afternoon. I made a point to visit it every day thereafter, and even brought my cello out there to practice. You just can't beat the combination of the rhythmic crashing of the waves, the heady scent of the pines, and Bach's First Suite for Unaccompanied cello!"
Summerkeys (http://www.nemaine.com/summerkeys/cello.htm) is already 90% full for 2002. Tuition is $420 per week, and room and board is available in local inns and Bed and Breakfast's. There is no audition and no minimum skill level. All campers-cellists, pianists, violinists, violists, and clarinetists-are encouraged to participate in the coached chamber music opportunities.

Janet, who has since returned to Summerkeys twice more, says,
"I will never forget that Saturday morning when I drove away after my first Summerkeys experience. How proud I felt for all that I'd learned and accomplished in those five, fleeting days. The culmination of the week was playing "La Cinquantaine" at Friday night's performance class. As I reluctantly left this picturesque fishing village, I recall saying to myself for the first time in my 1-1/2-year cello journey 'Yes, you can play the cello! You can make beautiful music!' This was nothing short of a revolutionary experience for me; someone who has been plagued with insecurity and self-doubt all her life. It felt so good, after 40+ years, to finally believe in myself!"
Jeff Pier, who is an astronomer at the Naval Observatory in Flagstaff, Arizona, has attended four different camps and workshops, including the "Summer Institute of Chamber Music" jointly sponsored by ASTA and NSOA in Redlands, California (http://home.earthlink.net/~calasta/summer.htm). This workshop is for intermediate, advanced, and professional violinists, violists, cellists, and pianists, who come either as pre-formed ensemble groups or as individuals who are then assigned by audition to a group. Says Jeff,
"The first day we auditioned. We had been asked to "prepare" the first page of a Mozart string quartet. We were called to play this in groups of 4. From that quick reading, the staff did an excellent job of assigning us to groups matched in ability. My group ended up working on a movement of an Early Beethoven Quartet. It was quite challenging, but almost within our grasp. Each day we worked on the piece for 4 hours, half of that time with coaching. We also had/got to play in a master class coached by one of the other coaches, did a dress rehearsal (we blew it badly, really shot our confidence!) and then the "concert." Our concert performance went probably as well as we could have hoped, far from perfect, but no major screw-ups and we were all very happy with it.

"The coaching (6 coaches, 12 groups) was all excellent, a real strong point for this camp I think. There were also opportunities to free-lance chamber music, and I got to play some more string quartets and piano trios." The coaching staff includes ICS's own Victor Sazer, who is artistic director of the ASTA workshop.
The ASTA workshop runs the last week in June, and tuition, room and board (college dormitory, double occupancy) totals $495. The application deadline for 2001 was April 15.
When I first started playing the cello as an adult, I read John Holt's book, Never Too Late which has a wonderful description of a week at Apple Hill, a chamber music camp in New Hampshire. It sounded wonderful, and as I sent my own children off to music camp I wished that I could go myself. But I was nervous about attending a chamber music camp, and Summerkeys is not only 3000 miles away but is always run when my university is starting fall term. So when Tracie Price posted on the ICS Forum about Black Glove Cello Festival, which is held at Dixie College in St. George, Utah, I was interested. After Tracie had answered a flurry of emails from me, I sent in my registration and talked several friends into going as well.
Black Glove (http://www.blackglovecellofest.homestead.com/), held annually in early July, was founded by ICS member Tracie Price. Participants range from intermediate to advanced, although adults with less experience are welcome. The first year I attended, the age range was from 11 to 66, with about 25% adults. Tuition for 2001 was $200, dorm rooms were $10 per night, and we were on our own for meals. The registration deadline is usually between March and May. Audition tapes are required for new participants only (about half are returnees each year) and are for placement purposes only. Since there is no real supervision outside of the scheduled activities, the youth participants must be either quite responsible or accompanied by parents.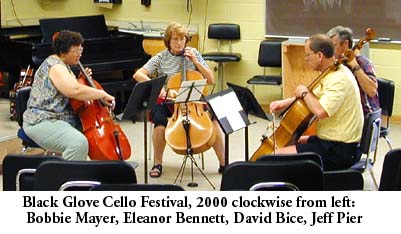 Black Glove runs about 16-20 participants, with four coaches, including ICS member Ryan Selberg. Mornings are spent with an ensemble group, and the adults are often grouped together. Late morning may bring a sectional or more ensemble practice. Afternoons are for cello orchestra, working on a wide variety of challenging literature, both arrangements and original works. Evenings find a variety of activities, from "Cello Jeopardy" to recitals to a masterclass with Ryan Selberg.

Black Glove runs very smoothly, thanks largely to the efforts of Tracie, but the atmosphere is non-competitive and relaxed. Orchestra seating rotates from piece to piece, so one might play a first part on one work and a third or fourth part on another. My piano duo partner, Linda, came along to chaperone her daughter, who was eleven the first year we went, and Linda and I felt so comfortable that we ended up playing in the masterclass.

An added bonus at Black Glove Cello Festival has been the opportunity to try out new cello products. Ellen Gunst, of Cellos2Go, sends out a sample of items (last year the Black Hole rockstop was a big hit) and in 2000 David Bice of New Harmony Music attended and brought along his carbon fiber endpins.

I particularly enjoyed the "all-cellist" atmosphere. The teenagers who attend were a wonderful group, and it was great meeting like-minded adults. The coaching is excellent. Some cellists may be wary of the summer heat of St. George, which can be 95-105 degrees, but dorms and facilities are air-conditioned and the heat is dry and not uncomfortable. Our Fresno group returned for a second year in 2001 and plans are already in the works for next summer.

One concern that is often raised about cello camp is, "How will I get there with my cello?" My group originally chose Black Glove because we could reach St. George by car in "only" nine hours. If a camp or workshop is too far away for you to reach by car, flying with your cello may be a necessity. One cellist I know reached the Redlands ASTA workshop by Amtrak with her cello. Another option may be to rent an instrument for the week. Some camps make arrangements with a local violin shop for participants to rent cellos (Princeton Play Week West does so with the highly regarded Robertson and Sons violin shop in Albuquerque). Although Jeff Pier, who was cello shopping last summer, drove to the workshops he attended, he took advantage of Redland's proximity to Los Angeles and took a cello he had on approval from an LA shop to the workshop.

Summing up the experience, Jeff Pier, who has attended Black Glove Cello Festival and several other chamber workshops as well as the ASTA one, says,

"My time is very precious to me and I have NEVER regretted attending one of these camps. I found them all to be:
fun;

filled with lots of music making opportunities;

educational, in both instrumental technique and in ensemble playing,

intense (a good thing, I mean many hours a day of playing/ coaching/etc);

challenging enough to be interesting but not threatening. I've always been very happy and surprised with what I've been able to accomplish in a week;

non-competitive settings filled with wonderful people, both fellow participants as well as coaches, who love making music as much as I do."
And from Janet Scott: "I've returned to Summerkeys twice since my first year there. Each time it was a unique experience. I guess because I was a different person, a different cellist each time. I don't think Summerkeys is something I'll ever outgrow, at least I hope not."
URL's for several music camp and workshop directories are given below. Deadlines for applying range from early January to "open until filled," but places for cellists in chamber music camps often fill quickly.
http://www.stringsmagazine.com/issues/strings92/summer01welcome.shtml
http://www.music.indiana.edu/music_resources/summer.html
http://www.musicdirectorycanada.com/pdf/camps.pdf
http://www.ultranet.com/~cwholl/cmc/cmc.html
---